Enamel Pins
Beloved characters from the series we know and love, designed to capture their adorable essence in enamel pin form.
🏮 
Keychains & Charms
Our best-seller, re-designs of the classic soul crystals tied to each job class, along with intricate wooden charms.
🌸
Apparel & Jewellery ✿
Artwork and ideas specially designed to be in wearable form!
👒
Printed Goods
Printed material of favourite paintings and artworks.
🌸
Prints, Stickers & Bookmarks
---
Thank you!
Thank you for supporting my art, and in doing so supporting independent artists like me do what we love! 🌸💕
🏮 Instagram @fiveonthe
🏮 Commissions: fiveonthe.com/commission
🏮 Free shipping for orders over $75AUD within Australia
💌 If you have any questions about your order, please contact me through email at fiveonthe.shop@gmail.com
- Joelin (Fiveonthe)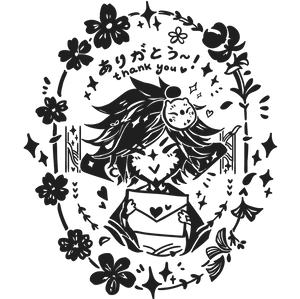 ( 人´∀`* )
About ✦ FAQ ✦ Shipping Info ✦ Contact ✦ Shop Updates ✦ Commission Info 
All non-original designs are produced as fan merchandise, derived from their respective properties. Any designs shown are not affiliated or produced in relation to their respective companies. Final Fantasy and its characters are trademark and copyright of SQUARE ENIX CO., LTD.